Actor Ronald Adam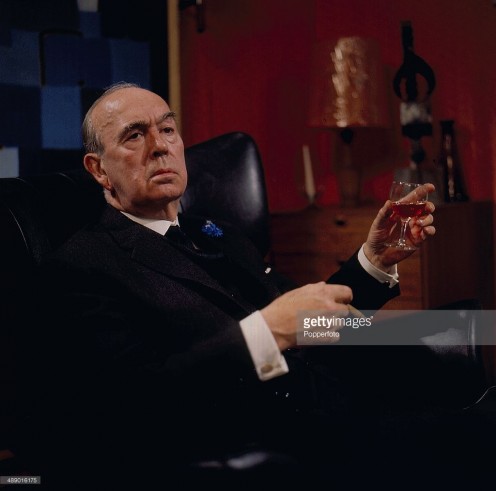 A Little Known Event of a Person's Past Life.
Some people survive incredible encounters and stay modestly quiet about such things. I don't mean that the event is kept secret, but sometimes old war veterans keep silent about moments of interest. If asked they may speak of such things. Yet if one does not know; interesting questions are not asked in the first place. The following person is a man I would love to have had a coffee or tea with. This is because he achieved many things. Yet one of his remarkable achievements was a fluke as opposed to design. The rest of his life seemed to be well planned and coordinated. He seemed to be good at controlling events. I wonder if the fluke event was dismissed by actor Ronald Adam or kept in an alcove of his memory. Perhaps it played a minor part in shaping his life.
During the late 1920s and through the 1930s Ronald George Hinings Adams was making a name for himself in the world of theatre. He managed several theatres and began to act in many of the stage productions. After the First World War, he trained as an accountant but found the lure of the stage far more compelling. His organisational skills in the theatre industry must have been considerable because he was employed by numerous playhouses at the same time. Like many people in the industry of acting and production, he changed his name. He chose to be called Ronald Adam. He dropped his two middle names and the S on the end of Adams.
In 1938 he made his screen debut. The acting and production of plays and film entertainment was the passion of life for Ronald Adam. He seems to have been a very enthusiastic man who devoted himself to his profession. A way of life he also enjoyed. When the Second World War began he was back in uniform. He had done so in the First Great War. He had been a pilot in Sopwith Camels during this time. Therefore he was back in the Air force. He was the Flight Controller at Hornchurch Airfield in Essex during the Battle of Britain.
My Grandparents' house was the last house before one entered the old airfield of Hornchurch. It closed in about 1964. During the Battle of Britain, it was a hive of activity as the squadron scrambled for the conflict of 1940.
After the Second World War ended, Ronald Adam resumed his career in the world of entertainment. He would be in numerous plays and a multitude of films and TV productions. He had diverse skills in this industry. Most of his acting in movies was supporting minor parts and I assume he was more into production and direction. Yet his portfolio of movies and TV acting is extraordinary alongside the 'behind scene' things that are integral for a good television or movie production.
I remember seeing him in various screen adaptations. In a movie titled Zeppelin, Ronald Adam played the Prime Minister. It starred Michael York, Elke Sommer, Anton Diffring and Andrew Keir. This movie was made in 1971. I have often seen this war film and I'm sure it may have had some special significance to Ronald Adam.
Actor Ronald Adam as Air ViceMarshal LeighMallory on the left with Kenneth More as Douglas Bader in the Middle.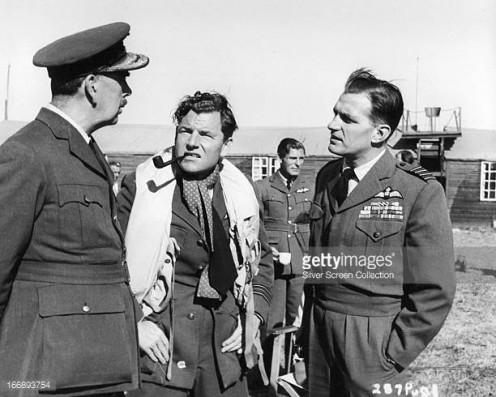 Hidden Past of WWI.
I'm now going to take the reader on a time trip back to Ronald Adam's younger life during the First World War and some similar things to what the actor may have had much knowledge on from the movie of Zeppelin. In one episode of the story, our German Zeppelin crew are attacked by home defence biplane fighters. It is a very dramatic moment for the crew who need to gain height to escape the attack of the British Royal Flying Corps' planes. In real life, Ronald Adams was trained in the RFC home defence group. He actually attacked Zeppelin raiders that came over during the night. I wonder if the story brought back memories of these fearsome times. Much of what was reconstructed in the movie had been witnessed by Ronald Adam for real.
Ronald Adam passed away in 1979. He had lived a long and disguised life. In his obituary, there was another surprise in store for many who would read the article in the papers. It certainly surprised me. Not only did Ronald Adam live a colourful life of theatre and movie production for many decades, he also had another remarkable tale to tell from his younger days of World War One.
Sopwith Camel - the plane Ronald Adam Flew in During WWI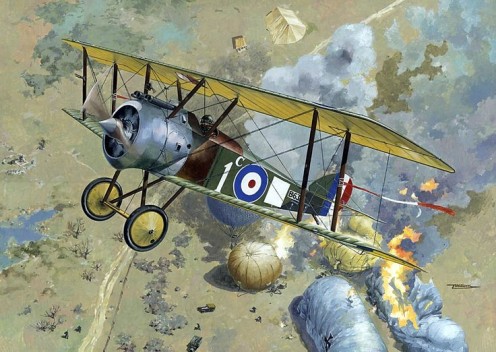 A Number On An Iconic Celebrity's List.
In 1918, he was transferred from the Home Defence. The interception of Zeppelins was to be replaced. Now he would fight over the battlefields of France and Belgium against the German fighter squadrons. The Navel section of the Airforce and the Royal Flying Corps were amalgamated to form the Royal Air Force.
The RAF was born on April 1st, 1918. Young Ronald Adam had been one of the new RAF pilots for seven days. He got into a dogfight over the northern part of France. During this encounter, his Sopwith Camel was hit and he was badly wounded. He managed to control and crash land the burning plane behind enemy lines. He was severely injured and pulled out of the wrecked craft by German military personnel.
As the young Ronald Adam was coming around during the evening, in a field hospital, he was visited by a young German aide-de-camp. The visiting officer's presence was for the German pilot credited with shooting Ronald down. The pilot could not be there in person but had politely sent the aide on his behalf. This was to offer respectable condolences for being shot down and congratulations for surviving the crash. The German pilot's name was Manfred von Richthofen – the infamous Red Baron. In actual fact, another pilot also claimed to have shot Ronald Adam down but Richthofen was credited with the kill. Ronald Adam was the ace's 78th kill.
Ronald Adam had been shot down by the famous Red Baron of Germany and had lived to tell the remarkable tale. Perhaps he did not feel very special at the time. He saw out the last few months of the War in captivity and was realised in December 1918. The Red Barron would die two weeks after shooting Ronald down on 21st April 1918. He would crash land his plane like Ronald Adam. However, Manfred von Richthofen would die seconds later from his wound to become iconic as a famous fighting ace.
The modest Ronald Adam would go on to become a celebrity of the stage and cinema. Hardly anyone would know of his exploits during both world wars until after his death at the age of 82. He seemed to have been a modest man in some ways, but also a man who liked the limelight of stage and cinema.
Ronald Adam Talks about his Days as The Flight Controller During WWII Battle of Britain.
In this radio narrative, Ronald Adam speaks of his days during the Battle of Britain. I wonder if he spoke of his experience with the Red Barron on occasion. Perhaps he did among selected friends. I wonder what went through his mind when he received the news from the German messenger. Did he know he was shot down by the Red Baron's distinct looking red aircraft? Or did he find out in the hospital?
The opening credits for Ronald Adam in his first movie as Major Gregoff in The Drum (1938)