Mike Hawthorn.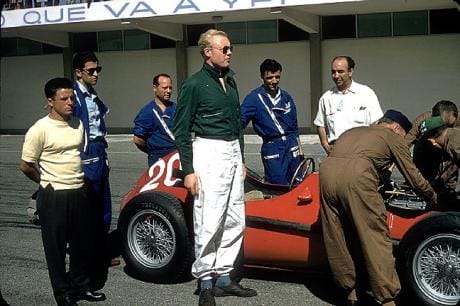 The 1958 Formula One Season.
During the 1958 Formula one Championship there were three men who indulged in a tremendous rivalry for the competition's winning prize money. All three raced for the car designer kingpin named Enzo Ferrari. As most people will know, the Ferrari reputation is legendary around the world for super performance cars. The name is a brand beyond comparison. By the 1950s, Enzo Ferrari had become an entrepreneur. He had founded the Scuderia Ferrari Grand Prix motor racing team. His cars would scream and echo their remarkable quality throughout the oncoming decades.
Enzo Ferrari always needed young men who lived on the edge of life. Glory Hunters and Dream Chasers. These were the calibre of young men who dared to race in the 1950's decade. There was a wealth of such men to choose from. Risk-takers with a dash of recklessness. Brave show-offs who would race Ferrari's constantly evolving racing cars. Many young men in the motor racing world would come and go. Some would perish in the fireball of flames and the burnt out wreckage of his super-fast cars.
To the spectator looking in at this world, it has a vivacity of manly glory. But then so does the era of gladiator fighting in ancient Rome. But how many of us would want to participate in such a thing? So too, does heavyweight boxing. I would never get into the ring with anyone. I could never drive such beasts of cars. Yet many of us enjoy watching those that would take a chance on such things.
The adulation of the masses must be intoxicating when the sportsperson wins. While in the background, are the impresarios. The silent kingmakers. Men that will no longer die in the fireball of reckless glory hunting. But men who will profit bit by bit from the enhancing reputation of their evolving dream machines. The little gods will come and go. There will always be a pool to choose from. Enzo Ferrari knew this. He encouraged the dash and rivalry among his racers. It was good for his brand.
Luigi Musso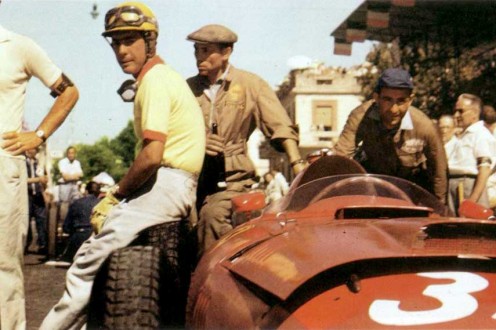 Three Rivals Want Glory.
In the 1958 Formula one championship, Ferrari had recruited three glory hunting young men who coveted the grand prize of the championship. Two were Britons. Mike Hawthorn and Peter Collins. The other was Luigi Musso – an Italian man from Rome.
In the 1950s, Formula one had many fatalities. The dead were mounting statistics. The sport was tremendously dangerous. Every year there were multiple fatalities. Big names perished. But some young men will always push themselves to the limit. Just to get a sniff of glory. Some attained the grandeur only to perish at a later date trying to re-fulfil the dream. These were the sort of men that Enzo Ferrari liked to recruit. Some argue that Ferrari's dream machines were his cars first and foremost. Perhaps the young men that took up the challenge of Formula one motor racing were mere pawns? This risky sport was not for the faint-hearted. The entrepreneur has to have a ruthless streak to be successful. The driver must too. But the driver is below the pecking order against the business mogul.
Young men love the thrill and it is said, that when one reaches a certain limit, a driver enters the zone. A zone where everything becomes sublime for a few moments. A tussle with something ultimately daring. Every racer wants to achieve this. If one is at the head of the pack where the chancers or the glory hunters are; then one is in a zone of fleeting perfection. Cross the finish line in such a state of excellence. Stand upon the podium of performance. Then, for a glorious moment in eternity, that chancer is held in awe. Supreme and glorious veneration.
However, this is just one race win. One must collect the performance points over a serious of races throughout the racing season for the ultimate accolade. A good driver needs to keep this daring venture up for many races to become the Formula One Champion. With such an achievement comes money, glory and adulation beyond belief. The lure of the challenge is like an intoxicating drug for some racers. Many of the reckless men were burnt out living in the fast lane. Yet still, they continued.
Mike Hawthorn had been racing in the Formula One Championship since the early 1950s. He had won many podium places and had finished fourth in other Formula One competitions. He did win the 1955 Le Mans race, though it was amid much controversy when a racer named Pierre Levegh collided with a racing car that had swerved to avoid Mike Hawthorn's Jaguar. The resulting crash also killed 84 spectators in one of the most horrific crashes of all time. The victory for Mike Hawthorn was bittersweet. He wanted the Formula One Championship and in 1958, he returned to the Ferrari team. He had raced for them before.
Peter Collins was also in the Ferrari team for this championship competition. He was a good friend of Mike Hawthorn and they had an agreement. If either of them won the Formula one competition, they would share the prize money. Peter Collins was a rising star and many expected him to be the first British Formula One champion. He had been in a team with the legendary Juan Manuel Fangio. He had given his car over to the Argentine during the 1956 season. This sacrifice dropped him to third place behind Stirling Moss. However, Fangio (Collins teammate) went on to win the competition because of Peter Collins grand gesture. He married an American actress and moved to a yacht in Monaco. Thus he was able to escape doing national service.
Luigi Musso was a seasoned racer of 33 years. He was the oldest of the three Ferrari racers in this 1958 season. He had gained some important podium places and was also looking good to take an overall Formula one championship. He had been racing for the Maserati team before joining the Ferrari team. Musso owed a great deal of money to creditors. He needed wins and to collect the prize money to pay off such loan men. He had confined such to Peter Collins. In turn, Collins relayed the news to Mike Hawthorn. Perhaps Collins was to attempting to allow Musso in on a third-way share of the prize money. Whatever the reason, Hawthorn refused to help Musso.
Hawthorn needed prize money for a love child. A young lady had borne him a son. He had met the woman in 1953 after winning the French Grand Prix. Maybe, he thought Musso was reckless to get into such financial debt in the first place. It is not known for sure.
Peter Collins British Grand Prix 1958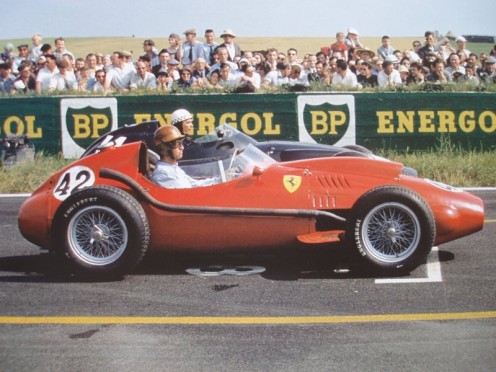 Outside the Ferrari Bubble Are Other Glory Hunters.
As the 1958 season progressed, the three Ferrari racers battled between one another. Also, the Vanwall team of Tony Brooks and Sterling Moss were picking up wins. It is hard to work out how the points system works for the 1958 season. This is because Stirling Moss won most first places in the races. Tony Brooks had more wins than Mike Hawthorn too. In fact, Mike Hawthorn only won one race at Reims, the French Grand Prix. If one looks at the wins during the 1958 season, Stirling Moss wins four races, Tony Brooks wins three races and Mike Hawthorn wins one. Yet Mike Hawthorn amassed 42 points against Stirling Moss' 41 points and Tony Brooks' 24 points.
At Reims, Luigi Musso tried recklessly to gain on Mike Hawthorn. The rivalry had developed over the competition. On the 10th lap of the 50 lap race, he tried to chase and catch his leading teammate. He took a particular curve at an angle that was too wide. His racing car struck a ditch. His car somersaulted and smashed to pieces. The injured Luigi Musso was pulled from the burning wreckage and airlifted to a hospital. He died of his injuries shortly after.
It was another race where the price of victory was bittersweet for Mike Hawthorn. The French Grand Prix was the largest monetary prize of all the races. Hawthorn would give his part to the lady who had borne him a son. As he and Peter Collins left the hospital in Reims, Mike Hawthorn was deeply affected by his team mate's death. There was a beer can in the road and he kicked it nonchalantly as he left the hospital. Peter Collins kicked it back. This was seen by the late Luigi Musso's girlfriend. Her name was Fiamma Breschi and she understandably saw this as a mark of contempt. It was not intended, but this was not a good thing to do in front of a dead friend's lover. Perhaps they did not think they were being watched. Whatever the reason, the two British racing drivers were forever held in contempt by Fiamma Breschi.
The next race was the British Grand Prix. Here, Peter Collins would win and Mike Hawthorn would come second. Peter Collins victory would be his penultimate race. For he would perish under the same type of circumstances as Musso, at the next Grand Prix in Germany. He was 26 years of age. His teammate Mike Hawthorn retired from the race. He would finish second in the next three races. The steady gathering of points from these overall second positions were enough to clip the championship by one point.
Despite the championship win, Mike Hawthorn had had enough of the Formula One motor racing world. He had seen a lot of good friends die. Death was always a companion for these racing drivers of the age. It would continue to be for the coming decades. Le Mans had been a diabolical triumph for Mike Hawthorn. So had the 1958 Formula one championship. Collins and Musso had perished.
Hawthorn collected his prize and announced his retirement. He had lived through the testing times. Finally, with the coveted achievement, he could leave the sport. It was October 1958. He had endured and survived. Many had not. Enzo Ferrari would find other daring young men.
Tragically, Mike Hawthorn would live for three months after his retirement. He was killed in a car crash driving on a public road. The date was 22nd January 1959. He was believed to have been racing his Jaguar car against a Mercedes that was being driven by Rob Walker. Perhaps a little foolhardy camaraderie with the 'Johnny Walker Whisky' related man. It was a little ironic, to say the least. Luigi Musso's girlfriend Fiamma Breschi might have thought poetic justice had been served. Who knows for sure?
The great entrepreneur Enzo Ferrari would move on. There would be other names to come. He would live to be 90 years of age. His brand name cars still go on to this day. The sport is less dangerous in this day and age.
But as Jan Struther, a lady famous for her children's hymn, once wrote; 'And the knights are no more and the dragons are dead.'
Mike Hawthorn Shortly Before His Tragic Demise.
One of Mike Hawthorn's Last Speeches.
Just prior to his tragic death, Mike Hawthorn made a small speech. There was a little humour, as one might expect. It gave thanks to all his fans and supporters during his racing career.