A Walk in the Fen is Helpful.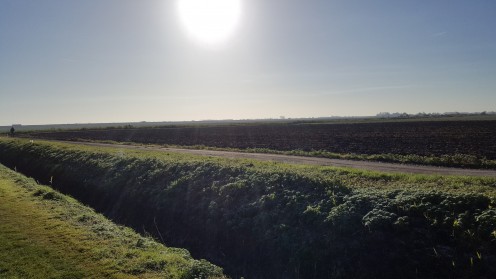 My workmate and I stopped off by a lake in the village of Manea. It is a small little village in the Fenland of Cambridgeshire, UK. For miles in every direction is fenland. The village houses end abruptly. The fields begin for miles in every direction. There are no suburbs like in cities. It was one of the first delightful things I noticed about the Fens. It was the reason I chose to move here. I have been through much in the past year. The serene stillness of the Fens offers a soothing calm. It does not take the bad things away, but it helps a person to move on. The Fenland on a clear day is kind to the observer.
All my life, I've been trying to get away from London. I was born there and I used to remember going on holidays away from London. My Dad would drive out of the city and I could never remember the moment when the urban area vanished and the fields started. I always tried to tell myself I would. I was determined to make a mental note. I told myself, 'I shall know the point where London finished and the countryside began.'
As the car moved through the traffic and the dirty buildings flitted by, I lost the initial thought. My mind would wander on to other things. I would be talking to my sister. Then to my Mother and Father in the front of our vehicle. Somehow, I would miss the suburbs ending for the fields. I would only realise when the hedgerows and meadows were serenely sailing past. They had been doing so for ages, but I had missed the all-important moment when the ill-favoured city ended and the fields began. I might have sighed with frustration. 'Oh blast! I did it again.'
I made a mental note never to live in London when I grew up. I would live by the seaside one day. Or in the fields. Well! I have done both. I eventually moved to the seaside. I loved it but decided to move on when I saw the wonderful Fenlands of Cambridgeshire, Norfolk and Lincolnshire. Now I work around the small hamlets and travel the Fens daily. I adore it. I've been through many trials and dreadful tribulations on my journey through life. I'm sure most of us do. We get through these things and are where we are. Some things I would not mention, but there are some sentiments that I think are appropriate.
Needing a short time to reflect on issues.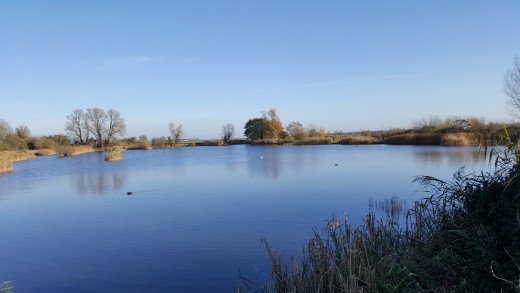 When we stopped today at the fishing lake, it was a crisp cold autumn day. Not freezing, but there was a chill in the air. However, the sky was clear and blue. Earlier in the morning, the fields were covered in a light frost. As the morning progressed, the frost evaporated. The lake looked wonderful with the wildfowl swimming about. I used the morning break to walk around the lake and look out over the Fens. I felt relaxed by the serene setting.
I had been thinking about the many lovely walks I had around Manea and its wonderful bird hides. My memory drifted to our little terrier dog. She had been in a few of the blogs I have written. She was known as 'Dotty dog Dotty.' She was a wonderful and loving little mutt. She was so full of life. Only a couple of weeks prior, she had been with us. We thought she would live forever. Then about eight days ago, I noticed she was more subdued than normal.
When I came home from work for an evening, Dotty would race out as soon as my wife opened the door. Her little tail wagging as she jumped up, pleased to see me. She would sit in the armchair like a sentinel waiting for my car to come up the drive. She would know roughly when I was due home. I always had to make a fuss of her before I could do anything else. She would roll over for her tummy to be tickled. This I would do dutifully. For years this happened. Then a few days ago, Dotty came out with her tail wagging. She had barked but was a little slower than usual. I tickled her tummy and she was up and walking back in and straight to her little bed.
I thought it was a little out of character, but then she did the same thing on the following day. She was still the happy little dog but there seemed to be something subdued about her. She was always going back to her bed. I mentioned this to my wife and the stepson Graham. He had got Dotty when she was a puppy. Almost eleven years ago. Both my wife and Graham said they would take Dotty to the vets. The very next day when I came home from work, Dotty came out to greet me, but she was walking rather than jumping about. Her tail swished lazily rather than her usual energetic way.
Dotty Dog Dotty in Her Good Days.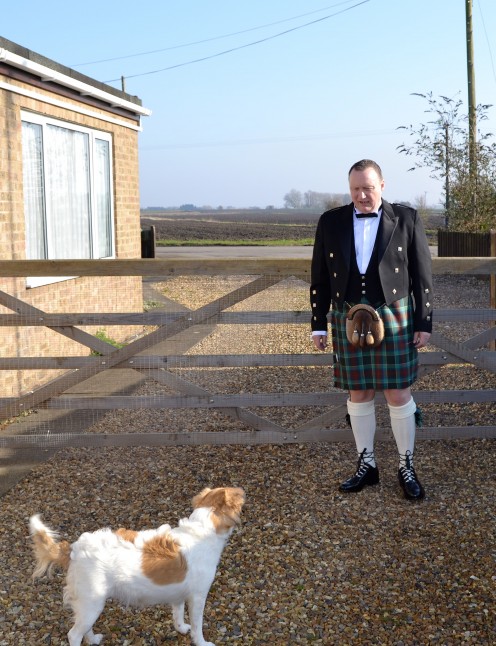 The Vet Gives a Dire Warning.
I made a little fuss of her and upon acceptance, she retired to her bed again. My wife, Carole, said the vet had told her and Graham that Dotty was anaemic. She had suffered with her ears for many years. We put the drops in and cleaned them out for her. But this was something we did often. We could not help feeling that there was something else. They booked up a blood test for Dotty and took her back to the vets.
While at work, I decided to phone up and ask how the results went. Carole said that the results would not come back until around four in the afternoon. It was still morning when I enquired. At about three thirty in the afternoon, Carole phoned back crying. She said the vets had rung back and told her and Graham that Dotty was dying and could go on any day. A healthy dog's blood count is said to be around fifty. I don't know what type of measurement that is, but it is something to do with blood, obviously. If a dog slips down to twenty blood count, it is very ill. Dotty was at nine. The vet could not believe the poor thing was still alive.
It was with a very heavy heart that I returned home. Dotty did not come out. She was not sitting sentinel by the window. She was in Graham's room. However, she must have heard something because when I sat down and began to take my work boots off, I heard the patter of her paws on the laminated flooring. She came walking in, her little tail swishing. She lay down on her side and held her front paws up for a tummy tiggle. I responded dutifully. Then Dotty got up and walked back to Graham's room. Because she was cold, Graham had put a dog's jumper on her. We expected her to pass away during the night.


Darcy - The Jack Russell Puppy.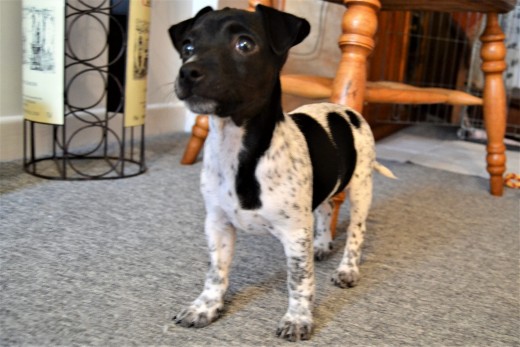 I went to work the next morning. I did not disturb anyone as I get up very early. Graham was so worried, he had not been to work. During the day, I phoned up to see if Dotty had made it through the night. She always slept in Graham's room from a pup. She was devoted to him. Every time he went to bed, Dotty followed. When He got up to work early each morning, Dotty would come into my room to wake me. She knew our routine. I would be up and Dotty would snuggle down and wait for Carole to get up. To my surprise, Dotty had got through the night but her breathing was laboured. Graham had been by her side all night. They decided that Dotty was so ill, she needed to go back to the vet. The vet advised that it would be kinder to put her to sleep or euthanized.
With a heavy heart, Graham decided to go through with it. Carole and Graham were with her when the final moment came. It hit Graham exceptionally hard. He was bereaved and in tears as he carried Dotty away from the vets, wrapped in a blanket. She was buried in her favourite bed and a few of her toys. It was a very poignant moment. He said he would never get another dog. Dotty went very quickly. Just eight days prior, we had no idea. Yet Dotty must have been slipping even when we did not notice. Animals suffer in silence.
The place was so empty without her. Dotty was an excitable and bubbly little terrier. She was so full of life and always about. In every way, she was so loved. Suddenly, our house was empty and we asked if Graham would not get another dog. Perhaps he would reconsider? Dotty had left a void. No other dog could replace this emptiness. But we could make another dog happy. Graham said he could not go through it again.
I was telling my work mate of this. He loves dogs and has had dogs all his life. He knows what it is like when they grow old and pass away. He assured me that Graham would change his mind. People always do.
I was thinking of these things as I walked around the beautiful lake. Beyond was the dyke wall that separated the two rivers where we would walk with Dotty along the bridal path. We had been doing so only a few weeks ago. I phoned Carole to see how she and Graham were baring up. She told me Graham was looking for a Jack Russell dog. He would not wish to replace Dotty, but we needed the feel of a lovely dog around the house. Barking by the five bar gate when someone came close to the boundary. I was pleased that Graham made such a decision. I went back to the van and told my work mate. He laughed happily and replied, "I've been there and got the T-shirt."
When I walked in from work, it was dark. The winter nights are here. I was babbling away to Graham and Carole and they were looking at me grinning. Over by the kitchen units, I saw a little tiny puppy hiding from me. It was not sure what to make of this strange person being me. It was a delightful little female Jack Russell pup. She was a little peach. I coaxed her to come to me and gradually she responded. After a little sniff, she seemed fine. Her name is Darcy. She is unique and will never be Dotty because Dotty will always be a unique little dog we will never forget. I had to say to Graham one thing.
"You will see the same thing happen to this beautiful little dog too, one day. But there will be a wealth of very wonderful times between then and now."
We all made a great fuss of little Darcy. She is just ten weeks old and lovely.
Jack Russell Puppy Named Darcy.