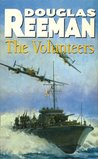 In my mind's eye, I could see this as something like a black and white matinee flick that one might have seen in the fifties. The story takes place from 1943 to 1944 with an epilogue etc in 1945.
Three men decided to put in for a marine service special ops group. They are on MTB and MGB boats doing missions or raids upon enemy occupied territory at various locations. One is a Canadian from the Atlantic convoys who is called Frazer, another is an English bomb disposal man (Allenby) and the final is an east end policeman. (Ives) They are recruited to replace others that have been killed in action.
As the saga develops we are introduced to some excellent characters and two wrens that are love interests to Frazer and Allenby. There are some great action scenes throughout the story as the fast patrol boats confront the enemy. The way the book is written gives a feeling of actually being there in those times of WWII when the people were said to be at their finest.
Great action and lots of wonderful characters – a read that I would recommend to anyone who enjoys Naval stories and WWII based thriller.
View all my reviews